Family Dentist in Ho Ho Kus, NJ
You wouldn't just leave your or your child's health in the hands of just anyone, so why would you do that with your smile? When it comes to getting dental care, you must find a dentist that you know and trust. You want someone who really listens to your needs, who doesn't rush you and your family. Here at Mohn Family Dental, we put families first. Our family dentistry team is dedicated to providing comprehensive, individualized, and gentle care to all families here in Ho Ho Kus, NJ.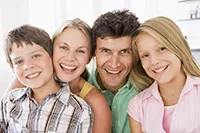 Be honest: When was the last time you visited the dentist? If it's been more than six months, your smile is probably screaming for a little TLC from a dental professional. Sure, there are a lot of great electronic toothbrushes on the market, and we hope you are brushing twice a day and flossing daily, but even so, there are certain areas of your smile that can be a little tough to reach with even the best at-home tools. By visiting a family dentist twice a year, you can ensure that plaque and tartar buildup don't happen. This also protects your smile from decay and gum disease.
Benefits of a Family Dentist
A family dentist is your one-stop-shop for all your dental care needs. Our family dentist, Dr. Jeffrey Mohn, has received specialized training to be able to provide comprehensive and customized dental care to patients of all ages. We work with kids, teens, adults, and seniors. We understand that everyone has different needs when it comes to the health of their smile. We take all of these factors into account when you come in for care. While our main focus is to provide your smile with preventive care to protect against disease and other issues, we also provide cosmetic and restorative dentistry to repair and correct issues when they do occur.
It probably doesn't come as much of a surprise that people who have a trusted family dentist are more likely to get the dental care they need to maintain healthy smiles. Dr. Mohn and his staff provide a welcoming, knowledgeable, and caring environment for their patients, so they always feel at ease here. We want our patients to get the care they deserve for healthy, happy smiles.
Dr. Mohn prides himself on creating a dental practice that caters to all families here in Ho Ho Kus, NJ.
If You're Looking For A Family Dentist In The Ho Ho Kus Area And Would Like To Schedule Checkups For Your Whole Family, Call Mohn Family Dental Today At (201) 447-1116.